New Practice Members at Thrive Chiropractic
The first thing you might notice when you come into our office are the kid's photos on our walls. We want you to feel at home and comfortable. Know that we will do whatever we can to help and support you.
Before coming to your initial appointment, please access the Jane app to complete our intake forms. The onboarding process takes place over the first two visits; please allot 45 minutes for the first one.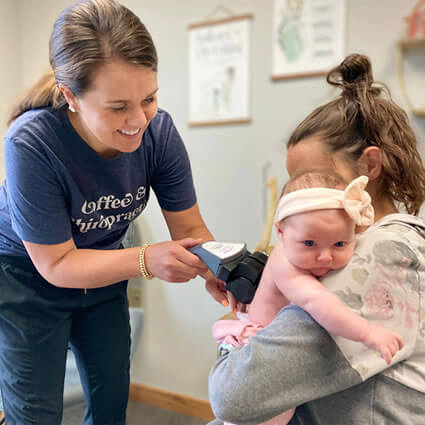 The Initial Visit
We want you to be confident and comfortable when coming in for your first appointment. We hope that we can answer your questions and concerns and really get to know you and your family better so we can customize our approach specifically for you. Here's what you can expect during your first visit!
Getting to know you!Your first visit will give us an opportunity to connect with you and listen to your concerns, needs and goals for your health and life. We will ask you to provide information about you, your lifestyle and the experiences that have contributed to where you are at this moment. After going over your vital information, we will assess the function and balance of the system with our Insight Scanner and also check range of motion, posture and subluxation.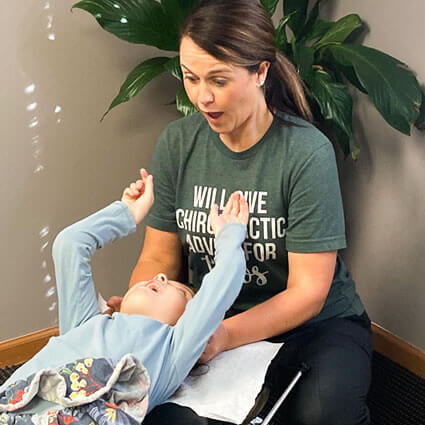 When You Return
We're so glad you're here! At this appointment, Dr. Maggie will go over the results of your nervous system scans, revisit goals and explain recommendations of care. She will let you know how we might be able to help with chiropractic care and answer any questions you may have.
"This appointment is about bringing all the pieces of the puzzle together."
You'll receive your first adjustment at this time. Financial options will be presented, as well.
Payments
Your care plan is tailored to meet your specific needs; cash payment is requested at the time of service. All major credit cards and HSA and Flexible Spending plans are accepted.
Book Your Visit Today
We'd love to welcome you and your family into our care. If you're interested in learning more, please contact us for an appointment.
CONTACT US

New Practice Members at Thrive Chiropractic | (785) 331-4515